Why is it so? Actually, less often, users are aware of server and network issues that may come. Server overloading, server crashing or poor network connections necessitates the availability of server monitoring tools that constantly check the server's health, performance benchmarking, alerting capabilities, data visualizations and detailed reporting. The tools ensures the .NET application run smoothly over the network.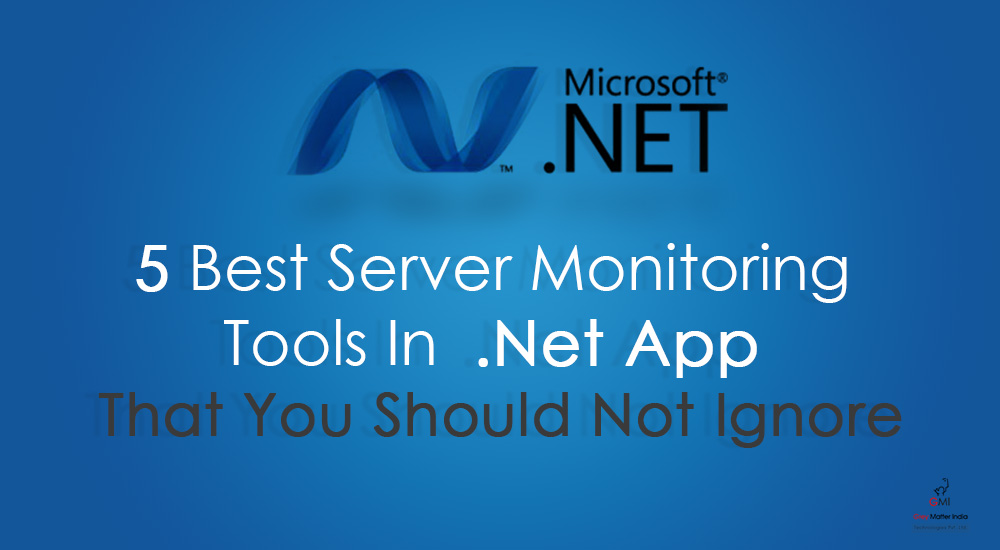 There are many server monitoring tools available that provides a lot of services that's right fit for ASP.NET application development different needs. It is difficult to decide which works best for what, so, here we have rounded up 5 server monitoring tools that help you to know what's preeminent for you:
1) New Relic
New relic, the SaaS solution provides application performance management and real-time user monitoring for cloud based applications. The tool works best even for the complex applications where real-time user interactions are monitored at the speed of light, and the flaws, errors and crashes are identified. It helps in tracking what's affecting application response time and enable businesses to take actions quickly. At every phase of cloud journey from adoption to migration, New relics gives the accurate pinpoint insights.
2) App dynamics
The proactive monitoring tool monitors database, application performance, bring real-time insights into IT operations and business, and optimize the end user experience on native and browser based applications. The usefulness of platform make it to top the charts in server monitoring and application performance measurement tools.
According to the Gartner research, "Appdynamics stands at the top in all five cases- application support, application development, IT operations, application owner and devops release."
3) Stackify
One-size-fit-all tool is amazing that measure response time, database queries, code level performance and key metrics of application and server. Also, it identify the errors, aggregate all the errors and then send an alert to the user. Moreover, all application logs can be viewed at once that enable solving troubleshoot application problem faster.
4) Ruxit
The tool supercharged with artificial intelligence monitors full stack performance promptly. AI powered Ruxit automatically monitor how the application performs from end-to-end and detect anomalies, if any. Thus, letting the businesses to focus more on innovation rather than server breakdown or crashes. The premium tool is offered in tailor-made packages based on businesses requirements.
5) Fusion reactor
The monitoring tool is not a traditional server performance monitoring tool that identifies the issues associated, while fusion reactor minimizes server downtime and increase the time to resolution. The tool comes along with built-in crash protection, database monitoring and production debugging.
The tool is designed as single server monitoring solution for Java, not for distributed application monitoring. If .NET app has single server, then it works best for it.
Wrap up
The range of server monitoring tools are distinct and a perfect fit for various business needs like- minimization of server downtime, full stack performance monitoring, get real-time insights, code level performance monitoring and pretty more. Businesses can devote more time on the execution of plans rather than monitoring application performance and servers.
Embrace the tool that's best suited for your .NET application development, application performance and security concerns.