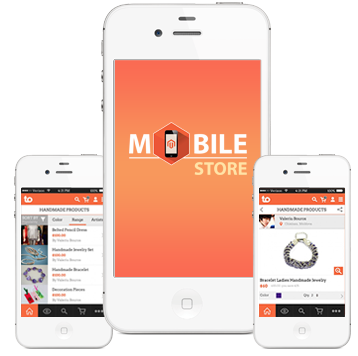 Ecommerce Mobile Store – A New Age Mobile Commerce Solution!
Our Ecommerce Mobile Store is a generation next solution to instantly set up your ecommerce store on mobile phones.
Grey Matter India has created this ready product to help you turn your ecommerce store into a mobile store within minutes! Our Mobile App Framework for Magento stores is a complete package that can be installed on your iPhones and gives your businesses a means to hit the mobile market sooner!
Details :
Go mobile with our Magento Mobile store and achieve smashing sales results!
Smartphones have totally changed the way businesses work. Taking advantage of the "always online" smartphone user, it's imperative that all businesses go mobile and tap this potential customer base. Mobiles are the future of ecommerce – are you there yet?
It's really simple: set up your Mobile Ecommerce Store within a few days with minimal or no coding at all with our Ecommerce Mobile App.
Gain greater visibility for your business and achieve smashing sales figures by making your business go mobile!
How our Mobile App Framework will help you?
The Grey Matter India Advantage:
Simple and effective mobile commerce solution
Greater Visibility for your business: Your business will be at the right place at the right time! Mobile users are constantly looking for easier ways to accomplish things. Giving them easy access to your business could be the best sales decision you would take for your business.
Highly Secure Product: Our product is thoroughly tested and will be reviewed by the App store for approval, you can give your customers a more secure and enjoyable mobile shopping experience.
Seamless Integration with your current ecommerce store: It seamlessly integrates into your existing ecommerce store, so you need not newly create anything.
A complete mcommerce package at an unbelievably affordable cost!
Features and Highlights:
Integrates with your existing store: Our Mobile Ecommerce Solution easily integrates with your existing store built with Magento Community and Enterprise Editions.
Greater data access speed and security: It is directly connected to your existing system and hence raising data access speed and security.
Original look and feel of you ecommerce store is unchanged: Your mobile version of the store gives your customers the same or better user experience while interacting with your mobile store.
Functionalities and configuration remain unchanged: Functionalities such as payment method, shipping method etc. will not be changed.
Store owners can offer exclusive deals, coupons and discounts specifically meant for app users and announce sales or new products and services via push notifications.
Affordable mobile solution for one and all: If you have a customized Magento theme, and do not wish to bear the development cost for a mobile version, our Ecommerce Mobile App is exactly what you need to go mobile!