Mobile app development is witnessing more popularity these days and will increase in the years ahead. Here, wide array of mobile technology options muddy the water as mobile app development include certain things to consider before zero in the choice to any technology. Also, different technologies perfectly matches the different requirements of enterprise mobile application, but the enterprise need a technology that comes as a complete package fulfilling all the requirements.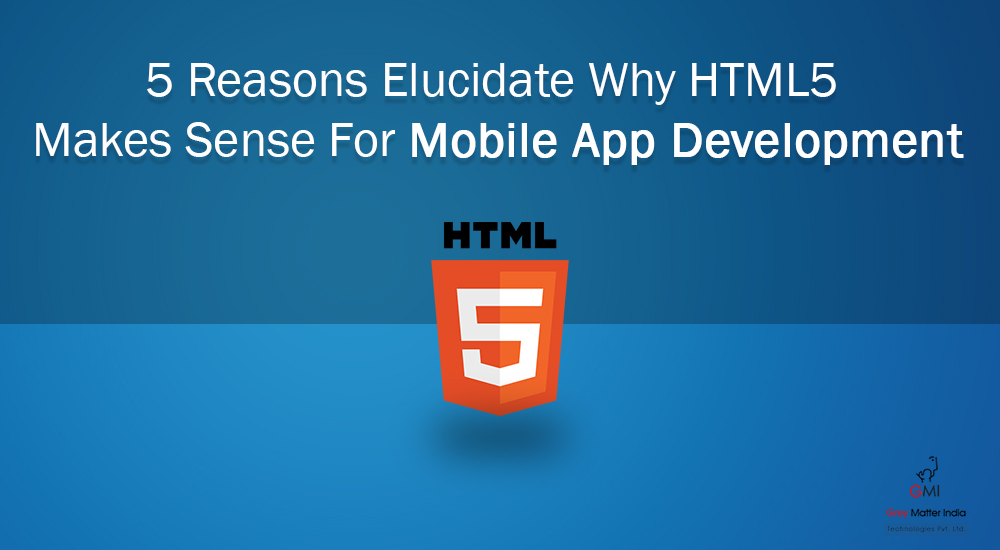 Cut to the chase, enterprises look for the one-size-fits-all technology that's optimized for mobile, support variety of OS, platforms, devices and browser, cost-effective and get the app out of the door quickly.
This demand can be accomplished with HTML5 technology that works on write-once-run-everywhere methodology,which leads to the reduction in app development time by a great extent. HTML5 mobile apps are designed to adapt screen size, resolutions, layout that's why they work seamlessly on several devices across multiple platforms. Plus, it is loaded with audio and video streaming features, and integrated CSS and JavaScript.
Take a look why HTML5 is considered as best to translate phenomenal mobile experiences everywhere:
1) Cross-platform compatibility
Having wide supportof multiple OS, platforms, devices and browser enable HTML5 to build cross-platform applications at shoestring budget. Due to easy learning curve, developers can learn HTML5 coding more easily as compared to other cross-platform coding. The technology saves both time and efforts because the app developed for one platform will run everywhere.
2) Build hybrid applications
The hybrid apps are the amalgamation of web and mobile apps that's built using HTML, CSS and JavaScript, and wrapped with web to native abstraction layer.HTML5 is great to build hybrid apps with less functionality and that's get built in less code, but pertaining to security issues or interactive features, it is not suitable.
3) Auto-update
The centralized codebase alleviates the process of manual update as users doesn't require to update the apps manually, while the updates are automatically pushed and the user will always see the latest version of the app. There is no need for the developers to release the latest version of the app or users to wait for the good connection to download the update.
4) Incorporate business intelligence
Business intelligence make HTML5 the best choice of entrepreneurs because the report generated at one device will automatically get updated on all the specific devices. The advanced caching enhance the app analytics visualization and the detailed view into the app data enable businesses to carry out the prompt decision on-the-go.
5) Diminishes the risk of vendor lock-in
HTML5 reduces the complexity involved in database migration script that's there using no-SQL database. Also, there is no restriction put on the proprietary plug-in usage as HTML5 format is interchangeable between mobile and web.
Conclusion
HTML5 is the best technology to build rewarding mobile and web experiences on all the platforms, devices and browsers within less time and budget. Bridge the gap between native apps and mobile websites with HTML mobile apps development and mobile application design. It's time to engineer creative app designs with HTML5 that require less maintenance and enable easy app upgrades, and go ahead.