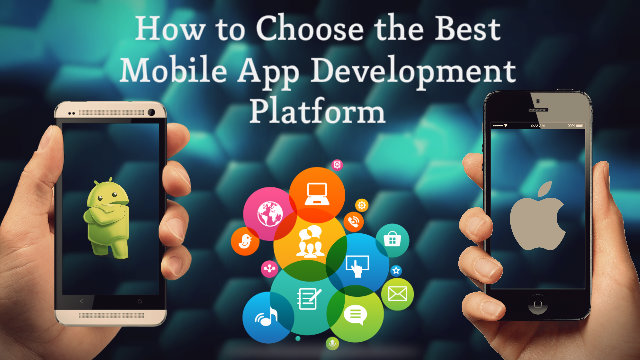 Should you build your application on Android or iOS? Perhaps both of them. Windows Phone or Blackberry maybe? No. Let's not even take a stroll down there.
If you're on this article, it's probably because you're unable to fix your mind when it comes to the mobile app development platform. As in, how to select the best one. Isn't it? You don't have to anymore as this article should help you with your dilemma.
As per the records offered by App Usage Statistics 2015, the total number of App Downloads for Android in 2015 was 50 billion. In the case of App Downloads for iOS, the figure was 25 billion. This is why we're going to focus on the popular approaches, i.e. iOS and Android.
Here are a few tips which should help you to identify and analyze which one to go for.
Choose the Platform that Perfectly Caters Your Needs
Know Your Targeted Audience
This should be your primary agenda. You must know what kind of audience you're planning to target before choosing a platform. Do some homework.
Perform a good research, analyze all the necessary points, and create a customer profile.
Do not avoid to focus on geographic criteria as it serves a key role. Platforms for mobile apps vary region to region.
This is why, if you consider focusing on Indians, you must know that a majority of Indians are Android users.
Android accounts for a roughly 60 percent of market share in India, while iOS lies at 7 percent.
Similarly, if you choose to go for Europe, keep in mind that Europeans prefer Android over iPhones.
Keep a Tab on Moderation
If you're going for iOS apps, you need to be well-aware that they are strictly moderated.
If you're not following Apple's strict guidelines, you will most definitely get rejected.
So before planning to choose iOS as your platform, check APP STORE REVIEW GUIDELINES that is available on Apple's website.
Google Play, on the other hand, has rules, but not as strict as Apple. However, this doesn't mean you don't have to focus on the guidelines for Android app development.
Check the guidelines and develop accordingly.
Focus On App Features
You need to consider important features along with user experience. Compare the two.
If you prefer to develop an app with native feel, you need to go for iOS or Android.
This is because these two behemoths are highly rated in terms of usability, thus providing superior experience overall.
In case, you're developing an app that is compatible with every platform, you need to go for cross-platform development approach.
Pay Attention to User Behavior
Well, user behavior is something that relies on OS and varies country to country.
If you're developing some free application without the need of monetization, it would be perhaps a waste for you considering the people in that particular region spend a lot on in-app and app purchases.
If you're targeting iOS users, you should know that they're likely to spend a hefty sum on apps and micro transactions.
Android users, on the other hand, prefer free apps and are not keen enough on the concept of microtransactions.
The cost of development
Keep in mind that cost of development is a very important thing.
Your app needs to be cost effective.
For instance, why do you need to go for several developers when you can hire one cross developer? Makes sense? Right?
You must always choose to go for a platform where you can fetch good ROI.
Additional Programming Costs
If you choose to go for Android platform, you must know that for buying a developer account you need to pay $25 as service charges to Google.
Apple charges $100 for the same along with additional $299 for its Enterprise Program.
If you choose to go for the both, you need to pay accordingly in both the markets.
Supported Devices
If you're choosing to go for Android, you must bear in mind that Android holds 160 items. It is subjected to constant increase.
Meanwhile, Apple follows a different approach. iOS 10 is compatible with iPhone: iPhone 6s. iPhone 6s Plus. iPhone 6. iPhone 6 Plus. iPhone SE. iPhone 5s. iPhone 5c. iPhone 5.
Let's Call It A Wrap.
Keep in mind that you want to offer the best in range to your users. Hope this article throws a major shade on your requirements. Good luck with choosing your preferred platform. In case, you have any queries, feel free to drop your comments.