Everyone already is in the awe of mobile technology including the business sector. Businesses have adopted the mobile applications as a tool to attract and retain their customers. Following the trend are the doctors using mobile apps to engage and retain their patients.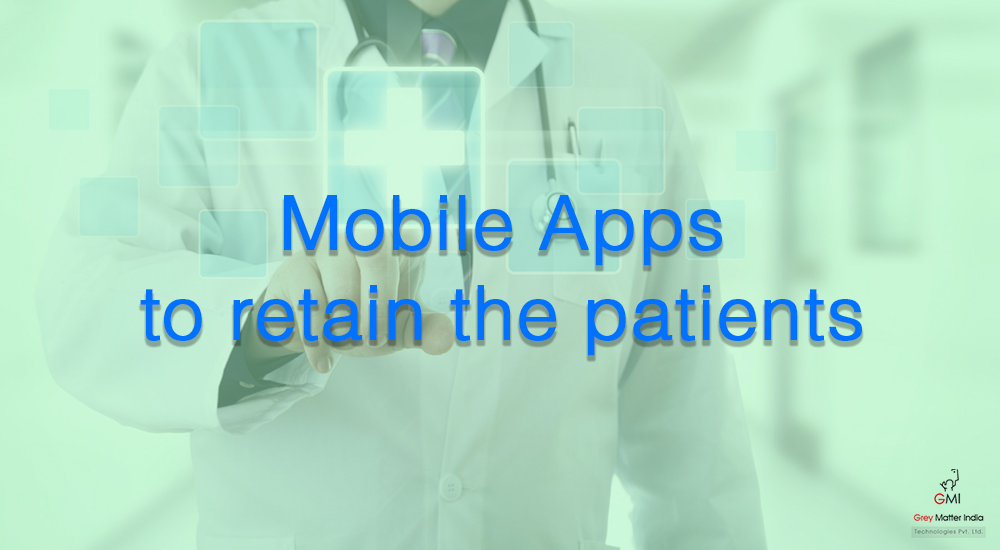 So, how far are the doctors successful by implementing the mobile applications in their work? Let's see.
What Statistics Say?
It's the start of the mHealth era and according to a recent study based on current statistics, it is estimated that nearly half of the healthcare professionals across the globe are likely to go for mobile app development in the next five years. It is said that more than 25 percent of the doctors are already using mobile apps to provide patient care, while 93% of them, the majority of the physicians have adopted to go for apps to be able to connect with their patients in the cases of emergency. The 40% of the medical professionals believe that mobile applications can save a lot of their time and resources by helping them take up and manage all the patient appointments easily. While many doctors feel the need to educate their patients on proper nutrition and diet through apps, some of them are also going for apps to enhance their connectivity with their patients and their information.
How can mobile apps help doctors or healthcare professionals to engage or retain their patients?
• Improved Connectivity
Gone are the days when an individual required to wait for a long time to meet the doctor. Now, with the advent of mobile applications, it's becoming easy connecting with the doctors who can be approached at any time and from anywhere. Patients can easily connect with the doctors over voice calls and messages through mobile applications.
• Quality Services and Better Treatment
Mobile applications can enable doctors to offer better services and treatment to their patients. For example, a patient may take a prior appointment with the doctor through mobile application easily from anywhere and anytime and can directly approach the doctor on the fixed time. Hence, this reduces the efforts and saves time for the patients and thereby helps the doctors offer quality services to their patients. Mobile apps can give doctors ability to monitor patient condition over time be referencing his/her complete visits data. Hence, doctors can treat patient's ailment much better and respond to it proactively before the ailment takes up chronic form. Doctors can easily track their patient's health records, update their treatment process and maintain good collaboration with them. Hence, mobile apps enable doctors work more efficiently in treating patients and therefore, can significantly help attract patients.
Many doctors also go for mobile app development to help their patients with good diet practices in their ailing situations. For example, mobile app can guide a diabetic patient on what he/she can eat based upon their diabetic levels.
• Improved Process Management
Mobile apps lead to improved decision making for the healthcare professionals by getting easy access to accurate health records of the patients. A properly designed mobile app for doctors can help them track patient's information efficiently without errors. The doctors need not maintain hard copies of the patient health records, which can add complexity to their treatment process, in case they get lost or damaged. Moreover, these apps enable doctors to enhance the workflow at their clinics while minimizing the complexity and costs to achieve their desired goals.
Doctors need not employ people to take up the appointments of the patients as they can have mobile apps for the same. They can easily take up, edit and cancel appointments through these applications and hence, can manage their patient appointments without any other help required for the purpose. Moreover, they can also set up reminders for appointments so that they can easily get up with their activities of the day. Moreover, as doctors take up the appointments from patients directly, there is no chance of any error that often results when a subordinate takes up the appointment without actually knowing of the availability of the doctor. This leads to improved services to patients.
• Branding
Many doctors go for mobile application development in order to promote their clinic. They use these apps to send push notifications, providing easy navigation ways and other clinic details to the customers. Mobile apps are the coolest tools that doctors can adopt in this mobile friendly era to attract customers. Modern age customers like to get everything handy right from their mobile devices and when a doctor gives them this facility, they are sure to get attracted to them.
Hence, though mobile apps for doctors can be a good way to attract and retain patients, they are also a good strategy to implement for healthcare industry.
Mobile Apps for Doctors and Healthcare Industry by Grey Matter India
All the doctors out there looking to develop mobile apps for their needs, can contact Grey Matter India. The professional mobile app developers of the company have hands-on experience into mobile app development for doctors and have already achieved success in the following apps.
1. Careington mobile app – This is an iOS and Android based mobile application developed using the advanced PhoneGap technology. It enables for easy doctor and patient communication and helps doctors to manage their appointments efficiently.
2. maxRVU mobile app – This is an Android mobile application developed using the Java technology. This mobile app enables doctors to track the sessions of their patients.
Similarly, there are health and fitness applications developed by the company for patient health tracking necessities as well. Hence, Grey Matter India professionals can easily fulfill any need related to mobile app development for healthcare industry. So, if you are looking for one such app, then feel free to contact us.