There were lots of rumors about an Amazon mobile device for several months. But finally, Amazon made its official entrance into the smartphone market and revealed their Amazon Fire Phone featuring 4.7 inches HD LCD display with a quad core 2.2GHz processor, 13 MP front facing camera with an f/2.0 lens, 32 GB or 64 GB storage that comes with free unlimited Cloud storage through Amazon's Cloud Drive, Dolby Digital Plus for a virtual surround sound experience and 2400 mAh battery that gives up to 22 hours of talk time and 285 hours of standby time. Amazon Fire Phone is a 4G/LTE enabled device with an amazing speeds on AT&T fast broadband network.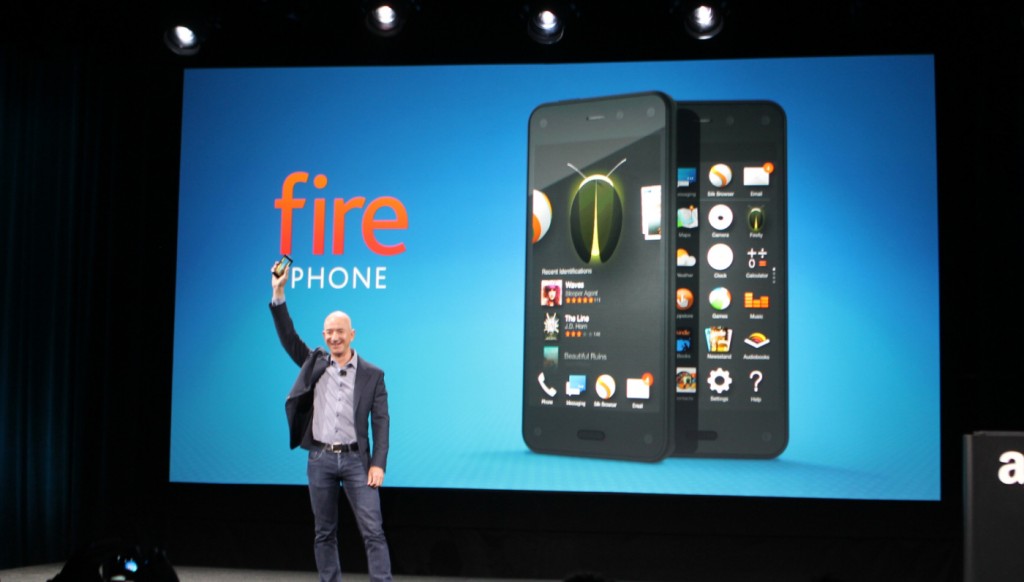 As quoted by Amazon's Founder and CEO, Jeff Bezos, "Although, this smartphone is android based device it is using the Fire OS operating system – meaning this phone doesn't use Google Playstore instead it will use Amazon mobile store and enables you with instant access to Amazon's vast content ecosystem and exclusive features like the Mayday button, ASAP, Second Screen, X-Ray, free unlimited photo storage and more.
Let's discuss some cool features of this android based device in detail.
Dynamic Perspective
Dynamic Perspective allows users to scroll and pull up menus without touching the screen with the use of just a flick of the wrist. A new custom designed sensor system responds to how you hold, view and move your phone. You can use certain one handed gestures to control menu, tilt, auto-scroll, swivel, and peek to navigate menus and access shortcuts with one hand. Notification bar can be accessed by swiveling the device. Dynamic perspective uses four specialized cameras, four infrared LEDs built into the front face of the phone, custom processor, a new customer vision algorithm and a new graphics rendering engine for the purpose to improve the user interface with all the aspects of the device.
The home screen features an enhanced Carousel which allows for real-time updates and actions without the need of leaving the home screen. You can dive into a new class of immersive apps and games, peek to see detailed views of clothing, shoes and more in the new Amazon shopping app for Fire Phone or take on a character's viewpoint to see around corners and obstacles in games.
Firefly Technology
This is an another new feature which allows the users to click the Firefly button and instantly identify things like phne numbers, web and email addresses, QR, bar codes, movies, music and millions of products – simply press and hold the dedicated Firefly button to discover useful information and take action in real time.
Mayday
Get free 24 hour/365 day live support with an Amazon expert at the touch of the button. No appointments necessary.
Advanced Camera System
Fire phone features a custom-tuned 13 megapixel camera system with a fast wide aperture f/2.0 lens for crisp and beautiful images. Fire phone records in 1080p at 30 fps from both front and rear-facing cameras for great-looking video whatever you wish to shoot. Also, you get a free unlimited cloud storage for the photos you have taken with Fire Phone with an feature of automatic back-up of your photos and videos to Amazon's Cloud Drive.
Powerful Performance
Fire Phone runs on 2.2 GHz quad core Snapdragon 800 processor combined with 2GB RAM enabling fast performance in terms of faster app launch, quicker website load time and various multi-tasking. An Adreno 330 graphics processor delivers the performance and fluidity needed for immersive gaming, videos and more. It also features nine bands of 4G-LTE, four bands of GSM, five bands of UMTS for better voice coverage, faster data speeds and international roaming plus 802.11ac support, Wi-Fi channel bonding, NFC and Bluetooth support.
To sum up, Amazon Fire Phone has exceptional audio quality powered by Dolby Digital Plus, Amazon Prime(FREE two day shipping on millions of items, unlimited streaming of top TV shows and movies, the all-new Prime Music and more), over 33 million titles integrated seamlessly and lots more. Amazon is proud to launch the new Fire Phone to deliver a great customer experience to the end-user. Certainly, the above features will help the developers in Android Application Development to build amazing and robust applications. So, what are you waiting for? Contact us today for Android Application Development…!