Enterprise mobile apps are the need of the modern businesses that want to increase their reach across the globe and gain a viable advantage over their competitors. Real estate firms are no exception to this trend of mobile apps. The real estate agents and companies are now looking out to adopt mobile apps as tools to provide better customer experience and build trust with their clients. They are adopting the mobile technology in order to improve their internal business processes and management.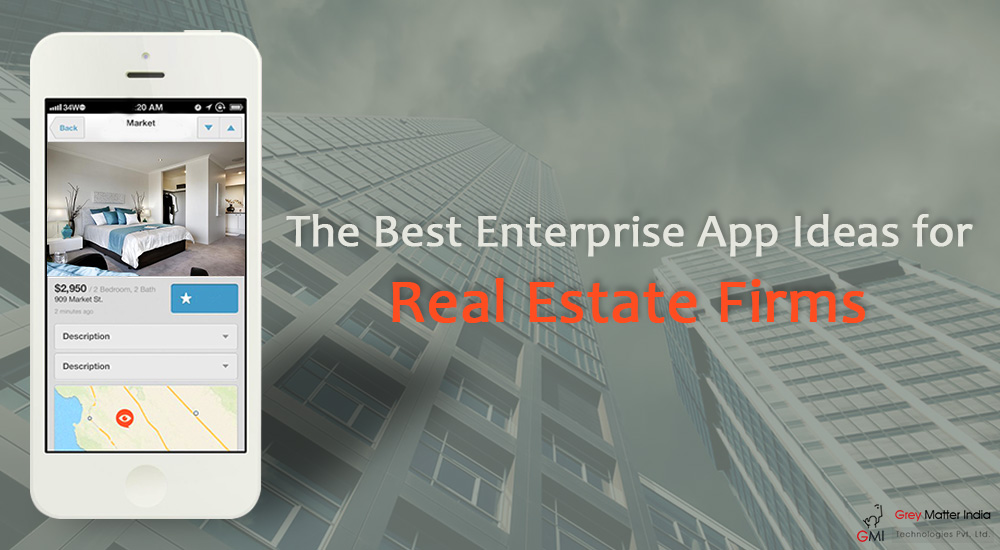 Apps can enable seamless communication between the real estate agents and clients thereby leading to improved customer-company relationships. They can increase efficiency in overall business processes of the firm and help agents to sell out their properties to the clients through engaging ways using handy devices like iPads, tablets etc. With wide number of industries and firms adopting the mobile technology, it's now becoming crucial for the present day real estate agencies to look out for mobile apps development in order to catch up with the fast pacing mobile trend and realize its amazing benefits.
Why Real Estate Firms should adopt Enterprise Apps?
As real estate industry is an extremely fast paced business sector, it's necessary for the firms and agents to adopt a more reliable way to manage the entire things easily and really swift. What better than mobile technology to meet up with the swift business needs? Hence, every real estate company these days is willing to go for mobile app development to catch up with the pace of the developments in the industry. There are plethora of benefits that mobile apps development can provide to the real estate agents and firms to reap invaluable profits. Below are a few of them.
• Allows seamless communication and faster access to information through mobile devices irrespective of the time, thereby leading to increase in business revenue
• Improves interaction with clients through engaging ways. Makes sales process more effective and help you get more business out of your investments.
• Provides optimal customer experiences with reliable communication mechanism provided to the clients so that they can contact the real estate agent at any point of time from anywhere for help in the most necessary conditions.
• Improved processes. Better satisfaction for the clients. More sales and profits. What Kind of Apps can Real Estate Firms/Agents can look to Build Up?
• Apps for Property Show Up
These are the apps to display property or show up the property information to the prospects in an engaging and visually attractive way. Such apps can be very effective in converting your prospects to loyal customers and give you a competitive edge over your competitors. Your prospects can view your properties in engaging display formats (like the 360 degree pictures available these days) and hence, get the real experience of the property right from their mobile devices. With digital floor plans and all kinds of basic information about your property included in such apps, you can definitely engage your customers leading to business conversions.
• Demographic Apps for Area Information
Focusing on the properties only, many real estate agents fail to communicate the information of the property area to the clients. Area or demographics of the property is a critical information that almost every property buyer looks out for before making a property purchase. Hence, by developing mobile apps exclusively for this can reduce your customer's efforts in carrying out research for information about the location of the property they are searching for and therefore, enhance credibility of your real estate business in their eyes.
• Apps for Property Buying and Renting Information
Property buying and renting is a difficult process which can be challenging to carry out with proper knowledge or help. Hence, when you help your prospects to make their buying and renting process easy through property buying and renting information apps, you are literally creating engaging and positive experience for them which they will not forget ever. Hence, you can create customer loyalty and engage more customers for your brand through such outstanding apps for your real estate business.
• Calculating or Estimator Apps
Calculator or estimator apps can be handy to the property sales person who can easily and swiftly carry out mortgage calculations or any other costs involved with the property at the time of sale without wasting the time or losing momentum with the client. Hence, this makes communication of the sales person more effective with the client as the sales person can communicate the right costs of the property without errors and that too within least possible time.
Hence, mobile apps development can be very helpful for the real estate businesses to improve their business processes by cutting down time and enhancing the speed and efficiency of the processes. The above mentioned app ideas are great to go for any real estate firm in order to drive more business profits.