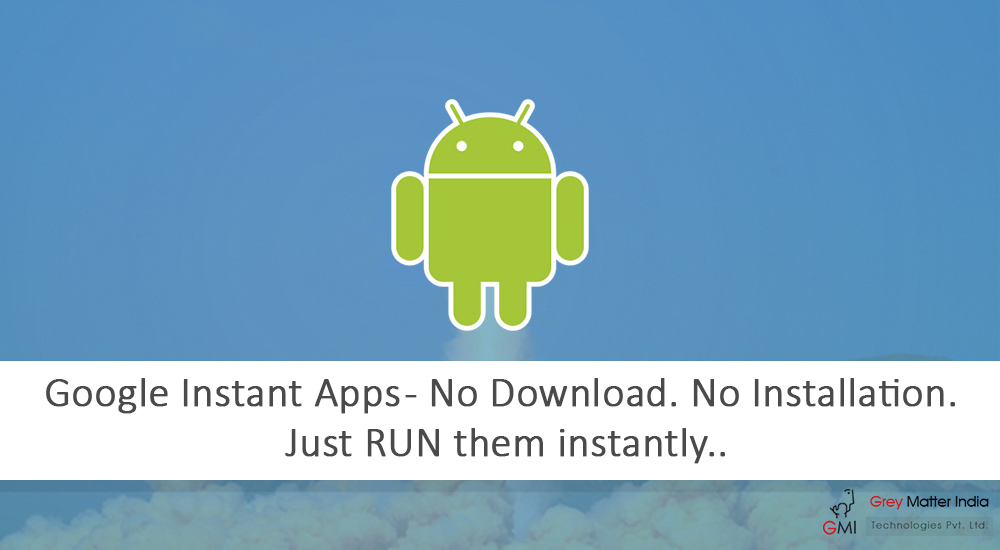 The mobile apps, we use today, need commitment before use. Commitment here refers to "downloading and installing process". Without downloading and installing an app, you cannot access it. You cannot try out an app and experience it, before actually getting it on your mobile phone.
For example, imagine a scenario where you want to buy a dress for yourself. But, you cannot try it, before buying. Hence, there arises a concern, whether the dress shall fit you or not after the purchase.
Similarly, with the present generation mobile apps, there arises a factor of uncertainty for the users, whether the app will fit into their requirements or not. Hence, quite often, most of the users turn down their idea of installing an app in their mobile phones because they are uncertain about the functionalities within it.
Mitigating all the concerns related to the uncertainty of a mobile app's features and use, here come the Instant Applications or Android Instant Apps from Google.
Android instant app is exactly the reflection of its name. It can run instantly without requiring installation on mobile phone. Now, the users can access a portion of an app and use the features or services they want, right away without actually installing the app on their phones.
According to Google "Instant apps let you experience what you love about apps — fast and beautiful user interfaces, high performance, and great capabilities — with just a tap".
Good for One-Time-Use Applications
The concept of instantly running apps on mobile phones seems to be an interesting as well as a worthy concept in the case of the one-time-use applications where the user requires the app for his need only at that particular moment and may never require it in the near future. In this case, instant apps can be used for a brief experience to satisfy user's needs without requiring the user to leverage his efforts and time in downloading and installing the app for such a minute, single time requirement.
Are Instant Apps, The Next-Generation Mobile Applications?
According to the experts, user experiences shall remain an important criteria for mobile applications in the near future as well and therefore, instant apps providing fast and user-friendly experiences shall continue alluring the users in the future as well.
So, what actually does fast and user-friendly experience mean in the context of Instant Apps?
According to the sources, whenever a user would search for information on Google, he/she would get to see both web pages as well as links of the instant apps from The Google Play Store. As soon as the user clicks on the app link, he/she would get to experience the app instantly without the need to download it. Can you just imagine that an app can be loaded as quickly as a web page? Yes, instant apps can. They shall actually be loaded within a fraction of time and have look and feel similar to that of a native application.
Cutting Down the Friction for App Installation
Google's main objective behind the development of instant apps is to bridge up the gap between mobile apps and web applications. Most of us today, would like to visit websites or use web applications rather than downloading and installing an app. This is because it would consume a good amount of storage space and shall also cost us a lot of time. But, with Android's spontaneously loading apps, it is no longer required to commit to use an app. It seems the future of the mobile app marketers is going to be really easy with these instant apps, which alleviate the friction for app installation. The app marketers who are having their toughest times getting customers to commit and download apps will now be able to offer apps with try-before-buy model to their customers and hence, capture their attention with pleasant and fast user experiences on their applications.
Discoverability of Apps takes a Big Step
Discoverability of apps has always been a matter of concern for the app makers because app searches are different from the normal web searches. With Android instant apps, users can now find apps and web results at single location. Hence, the discoverability of apps is all set to take a big step in the near future with instant apps, which shall not only be easy to find, but also easy to use with just a tap of app link displayed in the search results.
Easy to update Existing Apps
According to Google, developers can have easy time updating their existing apps to instant versions by just adding up an instant apps layer. They are required to create two builds including the normal app APK and the instant version for their existing applications, which can be an easy process for any skilled developer. Proficient developers can even update many apps in a day, depending upon the complexity of the applications. "It's the same Android APIs, the same source code, the same project," says Mr. Michael Siliski, Android Instant Apps product management director. It's all about making a few, easy changes to the apps to create their instant versions.
Instant is Safe
With instant apps, security shall not be an issue as these would run in a secure sandbox just like the other Android applications. Moreover, they shall be delivered by the servers of Google itself. Hence, the malicious apps can be recognized easily and removed.
Wrapping Up…
Hence, with so many catchy features for the app users, developers and marketers, Google's Android instant apps are expected to take up the mobile app world with a storm in the coming time. But, Google is in no ways making a rush with these instant applications. It wants to progress gradually as this is a big change for users as well as the developers. It has rolled out the instant apps for use to some of its partners right now and shall gradually expand the access to many more of them over the next few months. However, it is expected that Android instant apps will be hitting the market later this year and allure its users with its revolutionary features.
Speed, spontaneous access and ease of development makes instant apps a successful concept with an ability to revolutionize the world of mobile applications in the years to come.