Most of us are wanderlusts!
Given some spare time and money, and we got ready to expedite around the world. From pre-travel to reaching the final destination, there are a lot of preparations we have to do like- ticket booking, hotel booking, searching best places to visit and finding a guide, all of these are truly back-breaking. This planning and arrangements take away the real fun of the travel and sometimes, it is tiresome as well.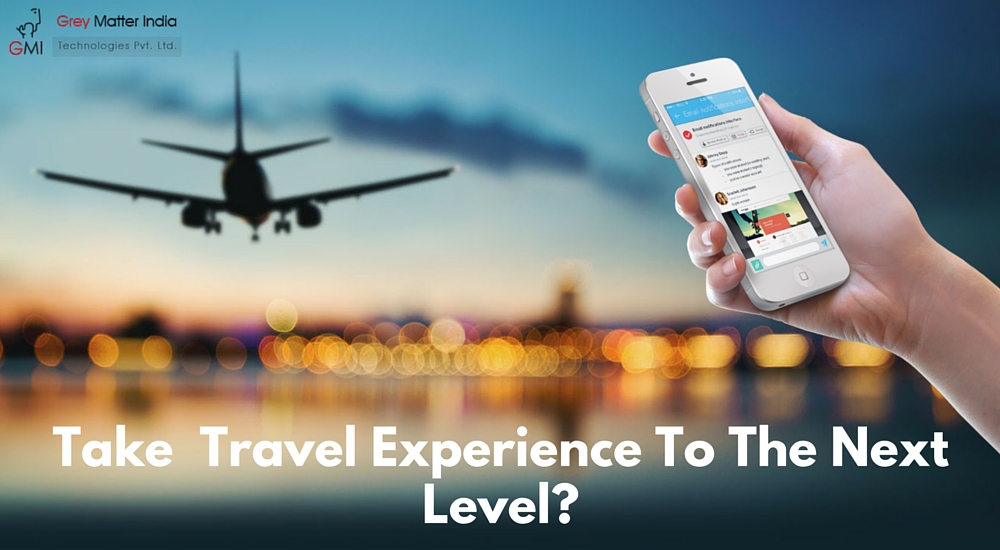 However, the smartphone right in your pocket can reduce your burden. Yes, exactly the mobile in the palm of your hand can guarantee your trip to go fantastic, effortlessly.
With technology advancements, variety of mobile applications developed that can help travelers leapfrog all the hurdles and dramatically improve travel experience.
Take a glance at all the advantages that travelers will get while traveling using mobile applications:
1) Make bookings on-the-go
Now, waiting in the long queues is no more required. Mobile applications have busted these long queues by enabling the travelers to make the booking right from the mobile. Be it ticket booking, taxi booking, or hotel booking, all the bookings can be made anytime, anywhere.
2) Compare the bookings/packages
Don't let travel agencies or agents to dig a hole into your pocket. Be smart and work smartly using smart apps. There are myriad of mobile apps available out in the market that will help travelers to find the best deals,compare them and then made bookings.
3) Hunt nearby places at ease
Once you reached the final destination, the next task is to find the places that you can visit. Obviously, you don't want any place to left to visit. So, it's best to peep into your mobile phone and get the list of all places to visit alongside their complete details.
4) Get directions to the place you want
Navigating the places to visit take away a good amount of time that travelers can use in exploring some more places. Mobile apps have added another feather to the cap by providing directions to the traveler turn by turn. This improves travelers'experience and help them to reach the destination without any hassle.
5) Ditch the tour guide
When a guide is hired/booked, handsome amount of money travelers have to pay to them and also they are not going to available 24/7. Here, mobile apps comes to the rescue. There are different type of mobile applications that by knowing travelers interests, likings, and tracking real-time location, provide recommendations or tailored suggestions through push notifications just the way a guide do.
6) Stay connected with Wi-Fi
To get in-room Wi-Fi, travelers have to pay extra to the hotels and that's truly pricey. Also, the Wi-Fi connection will remain limited to the hotel room, how about when the traveler is outside. Here mobile app like-Boingo, TWC Wi-Fi finder would help travelers to get Wi-Fi network easily and connect with it securely as the apps own millions of hotspots scattered worldwide. These apps are either available for free or you need to pay a minimal monthly subscription.
7) Get ride anywhere
No more hailing the cab/taxi is required! Leading e-hailing services are available globally that let travelers to book a ride on-the-go or search the nearby drivers at fingertips. Many taxi companies such as Uber, Ola, Lyft and more providing this online booking services are gaining more traction.
8) Comprehend the locals language
Without knowing the local language, travelers cannot explore the places to fullest and one cannot master hundreds of languages.Also, keeping the translator with you every time is not a good choice. The digital device- mobile that's very close to you can work as a translator that can translate the languages. Either you type or speak, the language translator apps translate in the language you understand best.
Conclusion
The mobile applications are bringing a paradigm shift in the travel industry and shaping the travelers' experience. Day after another, new applications are launching leveraging advanced technology to provide utmost convenience to the travelers when they expedite and giving a leg up to the travel space. Do you also have an idea to help the travelers? If yes, get connected with our consultants to know how you can get engineer the unique idea and roll over mobile app development journey.