Magento is one of the excellent open source ecommerce platform that help businesses to build online store having out-of-the-box features and functionality and helps increase sales as well as revenues of the online business. Today, it is extremely necessary for the business merchants to have an online presence. Magento Development India can help the businesses worldwide to build robust and dynamic online stores and functional shopping cart system that you are looking for.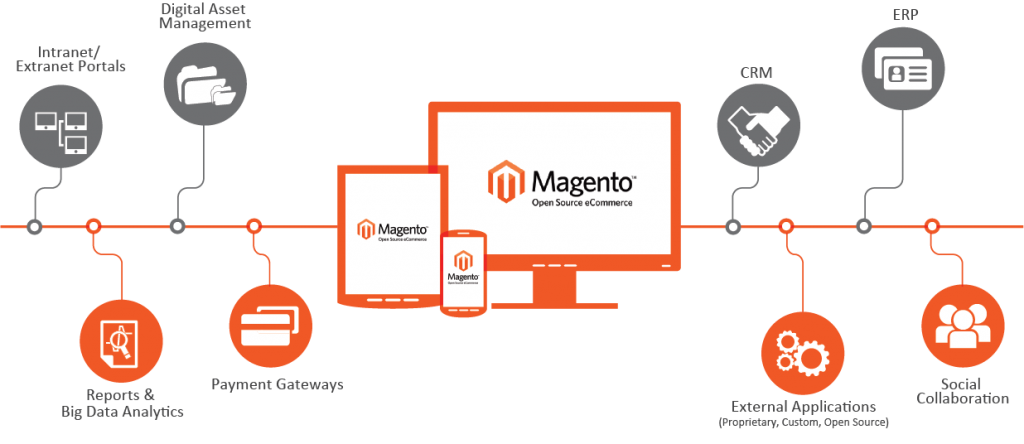 Many online business owners prefer Magento platform for their ecommerce needs as it offers numerous features and benefits as well as help them improve their brand image and productivity. It is true that Magento stands strong in technological market and offers effective solution for all the ecommerce needs. In this blog post, let us discuss the reasons as to why Magento is the first choice of the business owners for development of their ecommerce online store.
Open Source
Being an open source ecommerce platform the developers find it easy and comfortable to upgrade the product for free without even searching for other options. This means your product gets updated from time to time without much hassle.
SEO Friendly
Magento is very SEO friendly and ensures your website crawls on the top of the search engines. With the help of this feature you can see a vast improvement in the rankings of your ecommerce site. Also, there will be an increase in the online traffic thus leading to improved sales of your estore. This feature makes Magento one of the preferred choice for building ecommerce websites.
Multi-site Functions
With the help of Magento you can easily manage and connect one online store to another. Hence, the business owners can enjoy benefits because with the help of one admin panel they can easily manage multiple online stores with ease. Magento allows to add a maximum of 10 online stores to your existing ecommerce website. The customers can switch among the various online stores, place an order and complete the online transaction without any problem. Also, you can generate reports of the various online stores with ease and that is why Magento is highly recommended by the ecommerce store owners across the globe.
Numerous Extensions
Magento offers number of extensions including Google Analytics, WYSIWYG Editor and lots more. The extensions help you to display the products in different style and decrease the loading time of the web portal. This will entice the customers to your ecommerce website and keep them connected with your business. So, Magento offers countless extensions which will surely help your online business in many ways.
To conclude, the above mentioned points are some of the key reasons as to why Magento is considered the right choice for varied ecommerce needs. Are you willing to have your ecommerce store built using Magento and want to introduce your products or services in the market then get in touch with us today…!