SharePoint has always been the desired technology for the development of entrepreneurial solutions whether websites, applications or on-premises solutions. In spite of the emerging cloud technology, SharePoint continues to hold up its importance in the real world because of its exclusive features it offers for the development of reliable on-premises solutions for the enterprises. While many companies have tried to make the most of the document and content management features of this Microsoft technology and opted to develop SharePoint applications and portals for their business requirements, there are several firms that have developed on-premises solutions with much broader range of capabilities like business intelligence, knowledge sharing, document management, social collaboration, process integration, workflow automation etc., using SharePoint.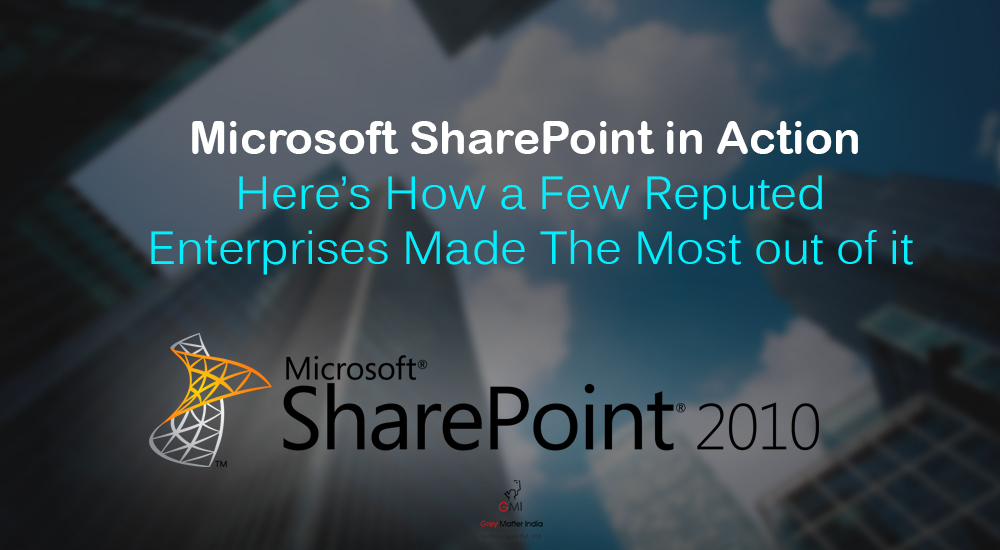 So now, let us have a look at some of the best examples of implementations of SharePoint technology in the real world. Let us see how the five reputed enterprises made most out of the SharePoint technology for their business needs.
SharePoint Implementation 1: iGATE
iGATE is one of the leading IT solutions and consulting firm with nearly 30,000 employees and more than 300 active clients (most of them are Fortune 1000 companies) across the globe. The company required an internal application for social collaboration so that the employees can share process updates and knowledge more efficiently and effectively. Hence, with the help of Microsoft, the company deployed SharePoint 2010 with Microsoft 2008 as database for its iSocialize platform that enabled the firm to connect with its workforce across the globe at lesser expenses. This has led to effective social collaboration within the firm across all its units all over the world.
SharePoint Implementation 2: Toyota Motor Corporation
Toyota, the world's largest automaker corporation wanted to enhance its website content, increase scalability and reduce the ownership costs. Hence, it opted to deploy cloud solutions using Windows Azure along with SharePoint 2013 for content management and blogs. SharePoint 2013's impressive search capability has let the corporation to quickly retrieve the information they require from the huge amount of content they have. The company has successfully implemented content management solution and is also planning to use blogs in future along with other social features.
SharePoint Implementation 3: Kindred Healthcare
Kindred Healthcare is one of the largest post-acute care services providers in The United States. The company already had deployed an on-premises solution to integrate its existing 54,000 employees in its infrastructure. But, after acquisition of RehabCare in 2011, it required another reliable solution to integrate 22,000 mobile employees in its infrastructure and hence, opted for Sharepoint Online to meet its scalability requirements along with concerns of security and standard compliance. So, after implementation of SharePoint technology, the company's therapists are now able to receive corporate communications directly through SharePoint portal and can easily, accurately send and receive messages for improved communication.
SharePoint Implementation 4: Aegon
Aegon, the world's largest insurance and pension groups having existence in more than 20 countries wanted to develop a global intranet application that made it easy to find out or search the information and people across the businesses and facilitate for social collaboration and real-time sharing of data across the organization. Hence, Aegon deployed SharePoint server along with its social networking features and thus enabled employees to communicate easily, share experiences and practices effectively through their PCs and mobile devices. Hence, effective control on governance and regulatory purposes was employed leading to better outcomes and profits for the business.
These real world examples show that how well SharePoint applications can meet scalability, social collaboration, knowledge sharing, content and document management and various other requirements of enterprises. So, if you too want to develop SharePoint application or integrate SharePoint solution for your entrepreneurial needs, look out for the experts to help you. Grey Matter India is one of the best web development companies in India offering high quality and reliable solutions for custom SharePoint application development to meet the diversified requirements of the enterprises.