Does the title sound a bit awkward to you? Well, it should because that's our main agenda behind this article. Time and again, we are used to hearing a background voice on the TVs and radios ranting about how investing in mutual funds are subject to market risk and so on. Yes, mutual funds need to be given a special attention as it's the subject of your investment, but so is the business of mobile app development. You cannot simply allow flushing your cash without expecting any good returns. But, mobile app business is huge and you cannot deny that. According to Digi-Capital, the mobile apps are projected to touch >$70B revenue worldwide, with non-gaming applications to double revenue share from 26 percent to 51 percent by 2017 with 61.3 percent CAGR.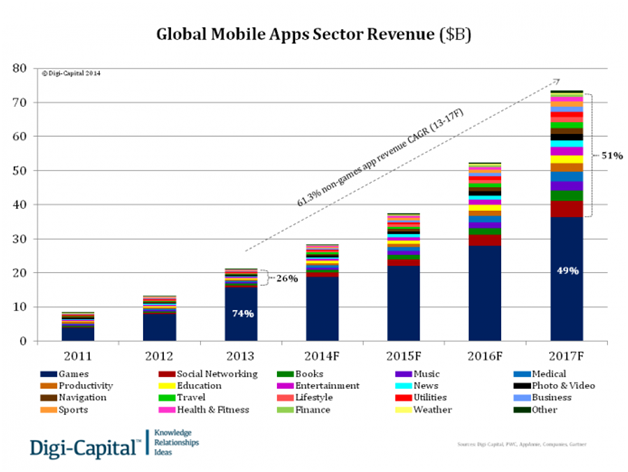 So, are you planning to build a mobile application for your business? Yes? In that case, you need to focus on hiring the best services. With the day-to-day hike in the number of smartphone users who're preferring to go for conducting business transactions on smartphone devices, coming up with a mobile application naturally looks like a natural progression, which offers customers a unique experience with an easy-to-use interface. However, considering whether a mobile application is a preferred move for your business, and how this move will be carried out is critical, too.
This is the reason why we've come up with a few important points, which must be considered by the CTOs and concerned personalities without fail before arriving at a point of making an investment in mobile app development. So why don't you scroll a little down and take a look?
NOT TO BE IGNORED POINT 1 – Market Research and Survey
Entrepreneurs today come out with a lot of innovative business ideas, which crash shortly after their launch as they fail to make money. As apps play a powerful role in our routine life, market research should be done properly. CTOs must see how well the app is building its relationship with the customer.
NOT TO BE IGNORED POINT 2 – Strategy
The CTOs must try to figure out what exactly is the app trying to achieve, what are the functionalities, and the features they want in the app. Having done this, it's absolutely possible to technically build all those features.
NOT TO BE IGNORED POINT 3 – Consumer Interaction
The more customer feedback you take the better the apps can be built. With that, the CTOs can understand the app and the users better. What needs to be considered and what's not to be considered? These shall help the CTOs to become well acquainted with the app and their customers.
NOT TO BE IGNORED POINT 4 – Expert Advice
Consulting an expert can certainly help in the betterment of an app. Though the CTOs are experts, but consulting an expert for the same can be beneficial in the longer run.
NOT TO BE IGNORED POINT 5 – Understanding the Growth Factors
Understanding the company's growth is very critical. The CTOs must check whether the app's sales are increasing or stagnant.
NOT TO BE IGNORED POINT 6 – Exit Strategy
The CTOs must figure out how big the app needs to grow the margins and their potential buyers once the app becomes successful.

NOT TO BE IGNORED POINT 7 – Legal Documents:
The customers must be provided with proper company terms and conditions before buying any product. The CTOs must check with these things.
NOT TO BE IGNORED POINT 8 – Understanding the Business
The CTOs must understand the business before investing into it. The better they get to know about the app better the confidence they can achieve in order to invest in it.
NOT TO BE IGNORED POINT 9 – Economic Calculation
If the CTOs are investing in a mobile app then they must the profit and loss for the same.
NOT TO BE IGNORED POINT 10 – Freelancers or Agencies
The CTOs must be clear whether they want to work with a freelancer or an agency. They must take decisions wisely. Hiring a freelancer may look like a good choice considering opting for an agency is a costlier option, but don't forget that you do not want to compromise due to money and get an unsatisfactory result.
NOT TO BE IGNORED POINT 11 – Opportunities
The CTOs must check if the app is providing better opportunities to the customers or not.
NOT TO BE IGNORED POINT 12 – Android or iOS
The CTOs must check the market, budget and then make a decision, as in for which platform do you want to go with.
NOT TO BE IGNORED POINT 13 – Customer Interest
The CTOs must see that the app must be interesting as hundreds of apps enter the market daily and customers tend to lose their interest in one app soon so they have to hold on to the customer's interest.
NOT TO BE IGNORED POINT 14 – Fast Actions
The CTOs must check if the actions are being taken fast or not. Try to give more discounts or good offers to get more customers for the apps.
NOT TO BE IGNORED POINT 15 – Advertising
The CTOs must check if proper ads are made for the promotion of the products.
NOT TO BE IGNORED POINT 16 –Target Users
The biggest step towards developing a mobile app is how well you know your customer. The CTOs must keep a tab if the proper customer is being approached with a proper prospective or not.
NOT TO BE IGNORED POINT 17 – User Growth
There can be a risk of unstable user growth. The CTOs must understand the users
properly.
NOT TO BE IGNORED POINT 18 – Risk of Choice
One needs to be very careful regarding the choice of a wrong development partner.
NOT TO BE IGNORED POINT 19 – Security Breaches
Security breaches are very common for mobile apps. Proper security precautions must be taken for the mobile apps.
NOT TO BE IGNORED POINT 20 – Know Your Team
The CTOs should know the team and the app better before investing into the app.
Summing it up
There you go! These are the most significant factors which need to be considered by the CTOs and technology team before considering to invest time and capital into the mobile app development.
If you have any other ideas, feel free to share with us. We'd be delighted to include your suggestions in our post.