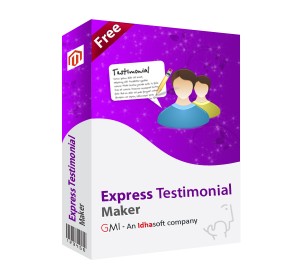 Express Testimonial Maker
Overview
Testimonials have been known to increase sales considerably by achieving Testimonials are a well-known promotional tool. It manifests your goodwill in the market and is more appealing to the consumers than any other technique as it reflects genuineness. With Express Testimonial Maker, your product testimonials can be easily managed and tweaked from the backend. This customer review extension helps you add, delete, modify and include special effects to random testimonial block within minutes. Now, easily control your testimonial area eliminating spam and persuading potential customers!
This extension provides client testimonials management through intuitive and easy-to-use user interface. It also includes compelling, feature-rich and easy-to-manage backend for Admin. Just install and you are ready to go! It's free!
Features
Easy to use, manage and customize
Includes Admin backend management support
Allows adding testimonial by admin panel
Allows client to submit testimonial on front-end
Allows user to enable captcha that protects your site from spam
Supports 12 different effects to show testimonials on frontend as follows:

Fade
FadeZoom
Cover
Uncover
Shuffle
Zoom
Wipe
Toss
Turndown
TurnUp
ScrollDown
ScrollUp

Allows limiting number of words for each testimonial that will be displayed in the block on left or right side bar
Easy to install. Just copy and run
Installation Process
Extract the extension folder
Copy directories to appropriate location of your Magento store, which are placed in extension directory
Logout from Admin panel if you are already logged in.
Login into Administrator panel.
Clear the "Cache" of store
Change the testimonial setting from "System -> Configuration -> Idhasoft -> Testimonial".
Site Level Configuration
Go to the System -> Configuration -> Idhasoft -> Testimonial backend page.
Site admin can perform the following levels of settings:

Enable Captcha
Set maximum Number of Words
Enable slide mode
Count total of recent testimonials
Check delay
Enable the "Display Email" option
Enable the "Display Address" option
Enable the "Display Company with Website" option
Enable the "Display Media" option
Set width of the media file
Set height of the media file
How to use it?
Home page system has a potential to display random testimonials based on the selected slide effects. The testimonials will keep rotating as per the selected effects and time period entered by the Admin.
Using "view all link", users can view the list of all testimonials. Following screenshot is an example of a website displaying testimonials:

The system allows navigation between the next and previous links. Using "submit testimonial" link, user can submit his testimonial.
Screen Shots
The procedure is better explained with the following screenshots:
Screenshot (a): The testimonial screen
Screenshot (b) Lists of Testimonial with Media
Screenshot (c): The Write Testimonial screen
Screenshot (d): From here, Admin can edit Testimonial Details or can change the status to "Enabled" or "Disabled":
Screenshot (e): The configuration settings screen
Version Info
Community Edition Version
1.3
1.4
1.4.1.1
1.4.2
1.5
1.5.1