The Fortune 500 companies are the top 500 firms that are the highest revenue beggars and the largest companies in the United States as declared by a popular magazine called Fortune every year. According to Microsoft, SharePoint is the most popular and fastest selling products under its ring. It is declared to be the fastest growing Microsoft product which is said to be adopted by nearly 80% of the Fortune 500 companies and one of every two firms across the globe in one way or other.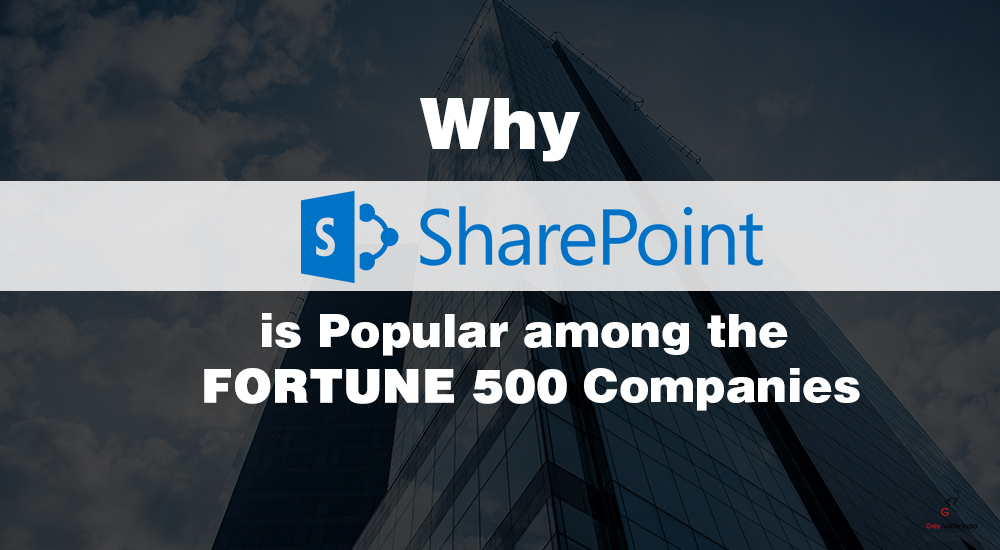 So, what do these firms use SharePoint for? Why is Microsoft SharePoint so popular among the Fortune 500 companies?
Let's have a look at this. 
SharePoint's complex collaboration structure and its extreme flexibility for enterprise applications makes it an obvious choice for the global firms. SharePoint development can help firms with a wide range of applications like development of the web portals, intranet portals, document management systems, social networks, business intelligence applications and much more. Right from the enterprise search, enterprise content and business process management, records management, file sharing to public-facing websites, everything can be well managed with this Microsoft tool. SharePoint offers a lot of features like security, search optimization, workflows, content management and provisioning, which are crucial for the modern corporate work environment.
One of the main reasons for these major companies to adopt SharePoint is the level of customization they can gain with this enterprise collaboration and management software. While on one side, it enables document storing and sharing across the firm, it is also the best CMS, ECMS and WCM tool that allows efficient management of a business website.
SharePoint application development is something on which most of the Fortune 500 organizations rely on, whether it is for the development of a business collaboration application, data display application, BI application, process management application or any other kind of business application. SharePoint allows for efficient internal organizational management and offers progressive growth to the company with its reliable work tools and features.
SharePoint can be utilized by the firms as a launch pad for their apps, a portal for sharing resources and may also act as backbone for their websites according to the situation. Hence, it can be extremely flexible to accommodate diverse enterprise needs.Therefore, it is very easy for the enterprises to exploit this Microsoft collaboration tool to best meet their business needs. Customization ability is also one of the main reasons for why most of the modern Fortune 500 companies opt to go for SharePoint development for their business.
Some of the examples of the Fortune 500 companies that have utilized this social collaboration tool for their entrepreneurial requirements include top firms like Nestle Nutrition Institute, FCA in North America, UPS Store, Petronas, Viacom etc.
So, are you looking to embrace this Microsoft technology for your entrepreneurial requirements? Then you should look out for experts to help you as SharePoint application development is not an easy task. At Grey Matter India, we provide a complete set of customized SharePoint development services to meet the needs of every enterprise whatever be the industry it belongs to. We have experts having years of experience into developing applications based on popular Microsoft technologies. Just contact us and get a free quote for your needs.