Apple has recently released iOS 9.3, which is the biggest update for iOS devices. In this new update, there are plenty of new features for developers to provide more reliable and fast iPhone apps development. Moreover, it also includes plenty of new features, which are helpful for iPhone users to ease their important tasks. Here are some of the most important features of the iOS 9.3.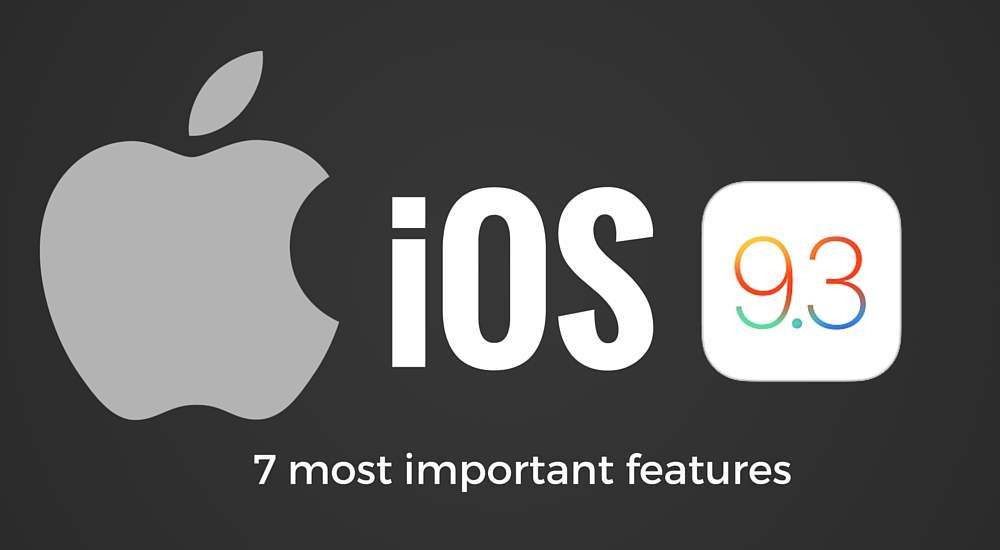 1. Night shift:
Night shift is one of the most discussed features of this latest update. It is helpful for those users who work till late night.This new feature automatically tints the screen to warmer color so that it doesn't harm eyes of the users. The night Shift will turn on when the sun sets and turn off in the morning time.
2. Secure and safe Apple notes:
In the earlier version of iOS, keeping confidential information in Apple Notes was very risky.Anyone could open Apple notes and scan any secret and confidential data. In this new version iOS 9.3, Touch ID and passcodes are included, which helps users to secure their written notes and keep their confidential matters intact.
3. Dedicated App for musicians:
In the earlier iOS version, musicians were using Voice Memos to compose the great music. However, It is quite a difficult app to handle and it is also not very fast. So, Apple has built a new, dedicated app called Music Memo to make things faster for musicians in iOS9.3. It is really helpful for the musicians, as it able to serve the purpose of two different apps for creating melodious music.
4. Smart tool for tutors:
iPad devices are always considered as great teaching tools. By using iOS 9.3 features, a tutor can teach more effectively in a classroom. This new inbuilt classroom app helps tutors to create lesson plans according to the skill level and accurately track their student's progress. In this update, Apple is also introducing Apple IDs for education which can be created and maintained by school administrators.
5. Upgraded support for CarPlay:
CarPlay is an old feature which was introduced in the iOS 8.With this update, Apple's maps and navigation system get the needed boost by allowing users to browse suggested songs and artists in the Apple Music while sitting in their car. Moreover, a new nearby feature uses Maps to find nearby restaurants, fuel stations,and many other important services.
6. Third party integration with the health apps:
With iOS 9.3, Apple will now permit third-party apps so that iPhone users can connect to this wellness dashboard to keep a track of their daily workouts, weight and other fitness related information.
7. Other important small features:
Apart from these features, iOS 9.3 adds some new features and improvements. There are new 3D Touch shortcuts given for the weather, health, setting, app and iTunes Store. It also helps iPhone users to easily duplicate photos in the Photos app, if they want to edit copy and keep the original intact.
Thus, iOS 9.3 update has many features that help iPhone users to extract more out of their iOS devices. It added some new capacities like third party integration with the health apps, smart new tools for tutors, updated support for CarPlay to make the iOS platform stand out from the rest of other operating systems.