As per Mobile Company's research, two thirds of planet residents will carry a Smartphone in next 10 years, and GMI predicts Smartphone's shipment would exceed the normal phone shipment by 2013 worldwide. Add in the effect of 3G penetration which has reached its inflection point as per latest Mobile Industry research, and you are looking at domination of mobile Smartphone's over the PCs and Laptops in near term. This translates to require for having Smartphone software applications development strategy for your business.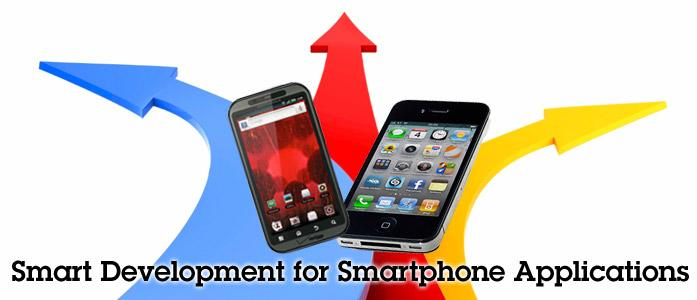 Often, the primary question which gets asked is "What can Smartphone apps help me to achieve?" There is no easy answer to this. At a higher level, Benefits which you can anticipate from investing in Smartphone apps can be following:
Attract new customers
Get better customer services
Make bigger the brand experience to Smartphone's
Create a fresh revenue opportunity from existing customers
Create a marketplace for your customers to buy within the Smartphone app itself
Let's take some examples from real life. eBay is targeting $2.5 billion in sales through mobile this year and Pandora saw its visitors jump by 248% after launching Smartphone apps. Take a look more examples from below table and know how leading players in your industry are leveraging Smartphone apps to gain competitive advantage.
Industry
Smartphone Apps
Retail
Retailers like Amazon are supplementing their online efforts with Smartphone apps ( mobile sales target of $2 Billion), and Brick and Mortar retailers like Macy's and Best Buy are making their offline stores more interactive using Smartphone apps.
Education
Universities, and schools like Case Western University, Stanford are engaging students and parents with access to intranet, grades, classes schedule and more on their Smartphone's.
Social Networks
Facebook, MySpace, LinkedIn have seen a huge jump of their traffic coming in from Smartphone's apps in the last one year.
Brands
Coke, Kraft Foods, Pepsi are mixing useful information which their customers like, along with their brand message to create immiscible Smartphone's branding which is non obtrusive.
Media & Entertainment
Media & Entertainment companies like Youtube, Hulu, and NBC are increasingly monetizing their content with Smartphone apps.
Enterprises
With Smartphone's adoption on the rise CIOs are helping executives by proving metrics, dashboards, sales and support data, intranet and more on their Smartphone devices using apps.
Finance & Banks
Chase Bank offers a Smartphone app with which you can take a picture of your cheque and deposit it in the app itself, saving the trip to bank.
GMI develop winning applications by combining our understanding of the complete Smartphone ecosystem, industry trends knowledge and technical expertise in different platforms including iPhone, iPad, Android, RIM's BlackBerry OS, Apple's iOS, Nokia's Symbian, Samsung's Bada, Microsoft's Windows Phone and more. We guide our customers in the entire process from conceptualizing the application, technology and platform choice, UI Design, Development, Testing, and Application Marketing. To understand more about our services on specific platform, please contact us now.
As an outcome of this generational move in the IT industry, we are witnessing an explosion in the number of Smartphone applications, the creation of which follows the unique Smartphone software development lifecycle. Our Smartphone application development solutions, with collaborative capabilities, help align the development and delivery of mobile applications with business objectives, within budget and time constraints.
The main objective of our Smartphone Software Application Development service is to offer the client a highly interactive mobile application with all the necessary features therefore streamlining the business needs. GMI Smartphone software application development solution provides the capability to build enterprise mobile applications that:
Run on multiple mobile devices
Connect to enterprise back end applications and information systems
Deliver high quality user experience
Fulfill fast time to market requirements and can be rapidly updated with new releases
With the skilled team of Smartphone application developers, we continuously strive to make use of the latest cutting edge tools and technologies for Smartphone Application Development. We follow the highest level of design and development standards, processes, product quality, delivery and support.
Our Smartphone Application Development Services leverage ample opportunities for enterprises and individual needs. We have carved a place in Smartphone Application Development Services across the world by delivering innovative and unique state-of-the-art Smartphone solutions.
If looking out for Smartphone Application Development Services for your business needs contact us today at contact@greymatterindia.com or call us at +91-22-28685660 (India) or 1-631-897-7276 (USA) to know more about our services and solutions.