Whether you love it or hate it, offshore software development in India is here to stay for a long time. According to the HFS Research 2013, with the support from KPMG International, most of the enterprise buyers, service providers and consultant organizations consider outsourcing as a way to not only keep costs down, but also gain more traction with up to date business processes.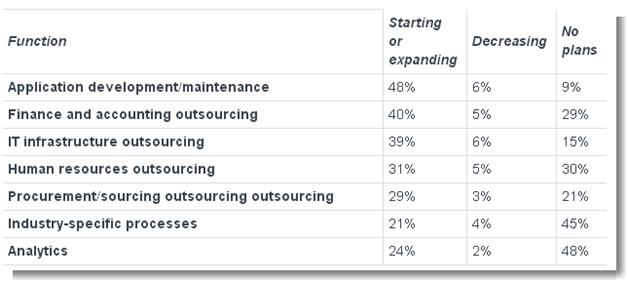 Moreover, for the year 2013, CIOs of the organizations are focusing more on outsourcing while reducing spending on hardware. From all these facts, it is quite clear that offshore outsourcing will surge in the year 2013.
But the rising popularity and usage of cloud services could either break or make offshore outsourcing service providers in the year 2013.
How it is possible for the offshore outsourcing service providers to survive in such scenario? Well, they can easily offset the damage the damage caused by the cloud on revenues if they plan out a cloud strategy at their own. It has become imperative for the offshore firm to maintain the right kind of balance between conventional outsourcing and cloud based products, as per the reports from Gratner.
Moreover, the analyst firm has also said: "Offshore providers who are slow, unable or unwilling to invest in the shift to the cloud will put their offshore services revenue growth at risk."
In reality, investing in the cloud services will assist firms differentiate themselves from labor-intensive and pure-play offshore service providers.
What's the role of cloud services in offshore outsourcing?
The research vice president at Gartner, Ian Marriot, said that In reality, cloud services won't make or break all the offshore software development or outsourcing service providers. There will always be a demand for the pure-play providers having labor-intensive delivery approach. However, it would become crucial for the broad-based offshore firms, which are competing globally in multiple industries, to spend time and money in cloud-based services.
Gartner predicts that public cloud services will grow 18% in the year 2013 to reach $131 billion and will cross $180 billion by 2015. However, the figures are quite not positive for the India-based service providers as they've recorded lower growth rate over the past five years, decreased from 21.8% year to year growth in 2011 to 12.7% in the year last year.
Consistently evolving delivery models imposes a great pressure on the offshore service providers to adapt to the changing needs, says Gartner. The research vice president at Gratner has further said, "Having the right number of the right quality people in the right places, when combined with the non-linear growth strategy, will discover improved revenue per employee."
If the offshore providers will not respond to such significant market change, they will soon lose their position in the offshore market landscape…!