Smartphones and apps are becoming basic necessities, being used extensively for work, play and shop! M-commerce has revolutionized the way we shop and live! Brick and mortar stores are facing problems with the constant increase in pressure from the online competitors who are just a click away from their customers. So, brick and mortar store owners are finding it difficult to attain new customers. In retail industry, the technological innovations are emerging each day and only the tech savvy retailers who come up with new technology solutions will drive more customers. So, this one is for all the retailers who are facing problems in attaining customers.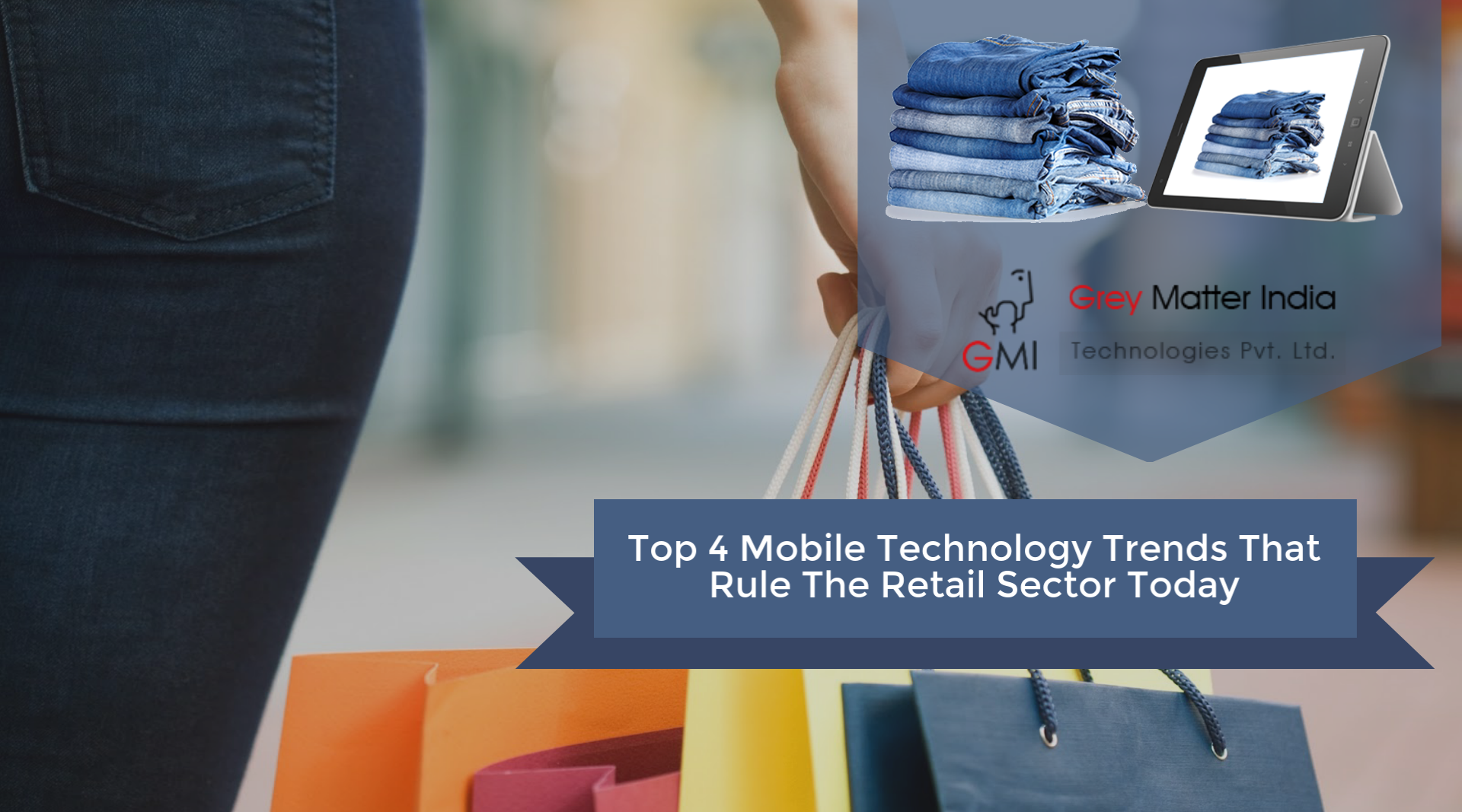 There are tremendous opportunities you can leverage from the increasing use of mobile phones. You can boost up your in-store sales using mobile devices, by enhancing the shopping experience of customers using mobile applications. So, every retailer must invest into mobile application and make the most out of its amazing features that augment in-store sales. Mobile apps let people buy groceries on the way home and save on Christmas shopping too! By investing into a mobile app, retailers can get increased revenue, loyalty, engagement and awareness.
In this constantly updating field of retail app development, as the mobile technology is expanding quickly each day, you must be aware of the best mobile technology trends in retail sector. Here are the top mobile technology trends in retail sector.
1. Mobile inventory management:
Managing inventory is one of the most important things in retail sector. Every store needs to maintain the adequate stock control. So, instead of maintaining a bulgy book and engrossing smart staff for that, you must use the inventory management mobile app.  Out of the multiple benefits of doing so, some of the most important ones are reduced risk of buying wrong products, reduced cost by maintaining the appropriate amount of inventory, theft discovery, sales and supply channel integration, improved productivity and enhanced customer experience.
2. Mobile POS (Point of Sale):
Brick and mortar store owners have no idea how much they beneficial can 'cutting out the queues' be. In this busy world, no one likes to wait in queues. A flexible mobile Point of Sale system lets you go to your customer standing anywhere on the floor and get the checkout done then and there. This will save your floor space, as you will not have to spare space for billing counters. Also, it will enhance the customer experience, as he will not have to wait in queues anymore to get his billing done. This kind of speed and efficiency will draw more customers to your store. You can also get the most out of other feature of the mobile POS system.
3. Location based services through Wi-Fi and Beacons:
A personal connection is something that lacks in brick and mortar stores, these days. Instead of hiring more staff just to increase the personal attention to customers, you must focus on proximity marketing, the revolutionary technology to enhance your in-store experience.  This technology helps you to have direct connection with everyone using smartphone. Using this, you can send the map to your customers so that they can reach your store easily. Also, after they enter the store, you can send various offers and deals directly to their phones as they walk down through your store. You can improve the customer experience either through beacons or using Wi-Fi of your store.
4. Customer Loyalty apps:
In this modern world, who doesn't like to earn reward points and save money? People like to shop and earn points in return. However, they would be disappointed to have points and still not being able to use them for discount, just because they forgot to bring their card to the store.  What do they do then? Well, the answer to the question lies in the smartphone gain. Using the customer loyalty mobile application, you can track customers and redeem their loyalty points.
Now that you are aware of some of the best mobile technology trends in retail sector, it is advisable for you to implement them and make the most out of it!