The ever-growing data in retail industry is multiplying by no bars. Existing warehousing data, operational data and increasing user-generated data like- demographics, purchase made, transactional data and loyalty data is quite expensive and complex to store and difficult to handle as well. To easily manage the huge amount of data, getting insights out of them, predict the trends and forecast the demands is a hard nut to crack.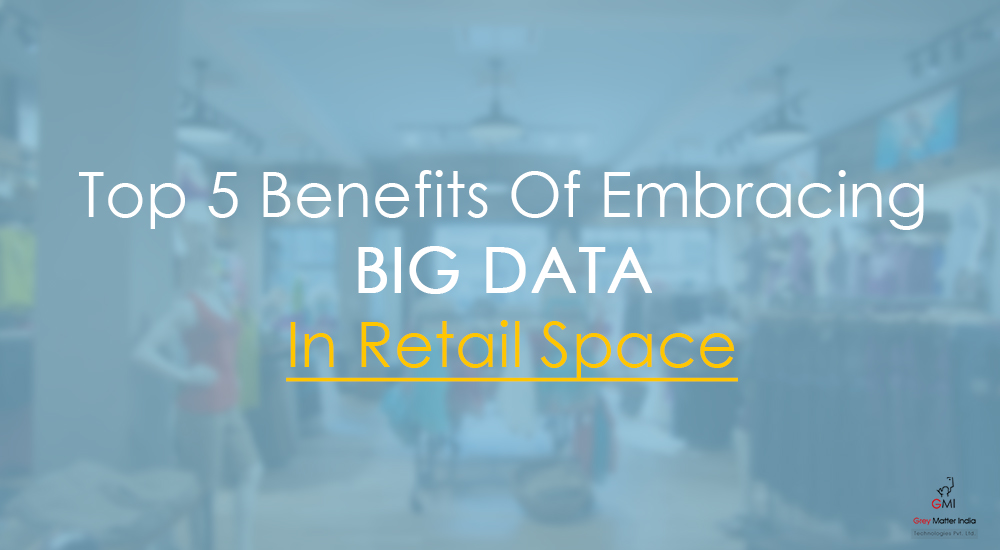 This is where big data comes into the place to collate large quantity of data in an organized way. Using Hadoop, data can be stored at one place, then traffic patterns, transactions and conversions are analyzed to envisage the trends that helps in amplify traffic, improve conversions and increase transaction size.
IT leaders and businesses have predicted that investment in big data is expected to grow in future and retail big data analytics market take the customers'shopping experience to a whole new level.
Below are the few advantages that retail industry would get by implementing big data:
1) Estimate consumer buying habits
Anticipating future trends is like double-edge sword where retailers are getting updated to keep up with customers changing attitude, but that's tough to accomplish as it's unpredictable when customer demands changes.
Big data analysis can help retailers to accurately pin point what makes customer cry, laugh or sigh. Besides, it also describes which methods, processes or technologies matches the varying consumer tastes. Assessing all such points, retailers can rethink the strategies and come with innovative ideas that gives a leg up to them.
2) Fraud Detection and Prevention
There are a lot of fraudsters out in the market who uses novel ideas and tools to fool the online retailers by fraudulent return of purchased products,stealing credit or debit card information and so forth.This issues impacts the customer's trust, loyalty and affect sales volume.
Using big data technologies like- Hadoop, Spark or Map Reduce, retailers can analyze petabytes of data that includes- transactional information, browsing information and user's IP address to predict the risks involved, if any.
3) Customer Driven advertising
Analyzing customer's demographics, location and buying behavior, tailored marketing strategies are defined and executed. With retail big data analytics, retailers provide customized messages, offers, and freebies to yield personalized experience to the customers to delight them. The localization technique is not implemented on the retail store, but utilized in customized marketing.
Amazon has pioneered in customization strategy that made recommendations to the users based on the purchase history, browsing behavior and wishlists.
4) Supply chain management
Logistic stays at the heart of retailer's merchandise value chain. Without efficient management of supply chain, retailers cannot continue the businesses for a longer run. To alleviate the inefficiencies and track individual shipment in real-time, big data analytics comes into the picture that collects useful information about the shipments and optimizes the inventory. Integrating big data analytics solutions and big data management services could be a way to stand out in the market.
5) Integrated forecasting
Retail industry offer millions of variety of products whose demand changes daily on the basis of trends, customer preferences, seasonal changes, competitors' new offerings and pretty more. To predict the trend at store or product level combining and analyzing the huge data is extremely taxing that can be done with retail analytics at the flick of switch.Precisely, the demand and sales volume foretelling after assessing millions of transactions daily is possible with only magic bullet that's big data technology like- Hadoop.
Conclusion
Big data technology perfectly makes sense for retailers to outgrow, out perform and scale in the environment of changing trends. The technology help the retailer to gain the insights and take the immediate step in response that enable them selling what customers need and increase the profitability.
It's time to exploit the power of big data services and solutions to leapfrog the competition.There are some giant retailers that have leveraged the big data and hadoop technology to enrich customer experience and heighten the bottom-line profits. We will discuss about their success stories and use cases in retail analytics in our next blog. So stay tuned with us.