Want to access multiple applications without switching windows? GMI helps you build custom toolbars that will enable you to perform multiple tasks with just a click. Now get Facebook, Ebay, and the application you access the most integrated on you toolbar.
We also engage in Plugins development to extend the functionality of your existing browser. Through our Custom BHO development service, we help users work quickly and efficiently.
We proffer rapid development service. Our frameworks can deliver custom toolbars in the matter of minutes. We also provide ready made toolbars made through extensive research on users' needs. So what are you waiting for, Download Now for an unrivaled experience!
1. XML Based Dynamic DeskBand development – Total- Toolbar DeskBand is developed based on XML and all GUI elements (menus and its submenus, plug-ins) and the data is called dynamically from the XML.

2. Search box features – Users can add/delete/modify as many TABs as he/she likes.
Total- Toolbar DeskBand can be dynamically display its content easily because it is based on XML and API based integration.
The API based Deskband development allows Add/modify/remove menus/submenus.
And all remaining settings like Skin settings, Plug-ins data settings and DeskBand Logo display.
3. Logo Support for DeskBand – DeskBand can display the logo you desire on the DeskBand which indicates your own brand.

4. Search box features – Also provides the user with a Search box option with selected search engine Logos.

5. Multiple search engine options – that the user can select and as default as per ones choice. Search box with provisions of Search History and Clear History options.

6. Skin able DeskBand – Total-Toolbar DeskBand has various colorful and easily downloadable Skin options, Users even have the freedom to create skins specific to their own choice.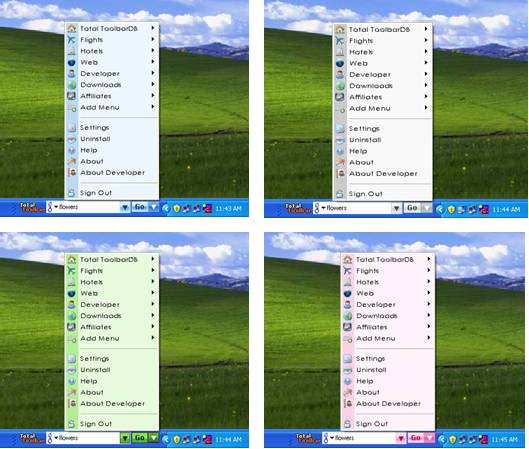 7. Drag & Drop Files, Folders and URLs Shortcuts – The User can Drag & drop Files, Folders, URLs on the Deskband , those shortcuts will automatically be added to the DeskBand and appear as a part of the DeskBand itself under specified category selected by user.
8. Popup Blocker for DeskBand The Deskband also provides for a Pop-up blocker menu which caters to the Popup blocker "On/Off" option, and also helps other pop-up blocker settings such as pop-ups "blocked/allowed" etc.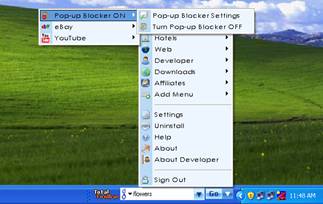 9. Plug-ins.. adding support for DeskBand – API and XML based Third party Plug-ins integrated with the DeskBand, will read as a Plug-in Icon, the Plugin's name and menu's information for the Plug-in and it will display information dynamically. Total-Toolbar DeskBand currently has some plug-ins such as eBay, Youtube etc.
10. DeskBand Plugin Alerts – The DeskBand is also capable of displaying Alerts based on specified event from the Plug-ins like if a New mail/message arrives, sports score request, stock price changed alert etc. These alert is based on Application Settings user can enable or disable according to his requirement.

11. DeskBand Dynamic Settings – Users will have full control over the DeskBand in order to change settings such as Skin styles, Popup blocker settings, Toolbar Logo Settings, Plug-in settings as well as Alert Settings. These settings will dynamically be applied to all instances of the DeskBand.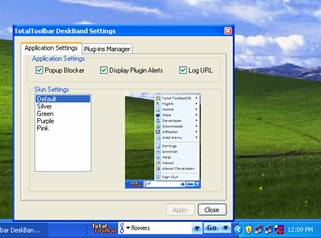 12. 
Variety of GUI Combinations Total-Toolbar Deskband support
Text with Icon Menus.
Menus and Sub Menus
Search Box with History
Customizable SDK
Layer based Alerts
13. Multiple Level Menus and Sub Menus with Icons – A dynamic XML and API based DeskBand, Also provides Menus and Sub menus with image support.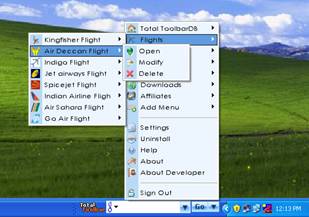 14. Deleting DeskBand Menus – Click on Delete Open under Add Menu, the dialog will be invoked to take the user input for deleting the menu.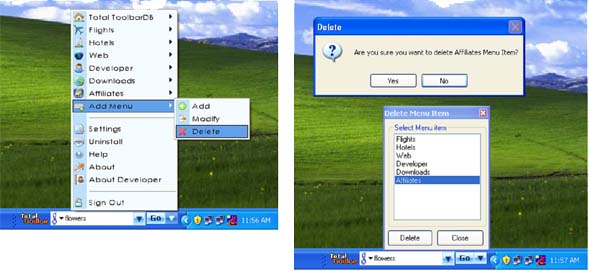 15. 
Major Features
Customized Menu and Links with Custom Icons.
Menu Add/remove Buttons
Popup Blocker
E Search Pane
Watch URL Browsing
Auto Update and Upgrade
Auto Login
Skin/Theme Support
My Favorite Links
Plugins Support
Customizable SDK
Plugins Alerts
16. 
The following Plug-ins are available in DeskBand
 – for demo. ( It dynamically fetches data and displays in the DeskBand at a set frequency )
YouTube – Displays recently uploaded videos.
eBay – Displays product information based on user preference.