In the recent years, demand for internet enabled mobile devices has increased drastically which has in turn boosted up the market for mobile applications. Today, a large number of internet users are mobile-first who majorly use their mobile devices like smart phones or tablets for their online activities. However, internet usage through mobile devices is rising a security concern for many reasons. There is a concern over the safety of the present day mobile apps. Mobile apps development is definitely a good way for the corporates to enhance their reachability across the globe but concerns regarding security of the apps from malicious hackers still remain a concern for the corporates.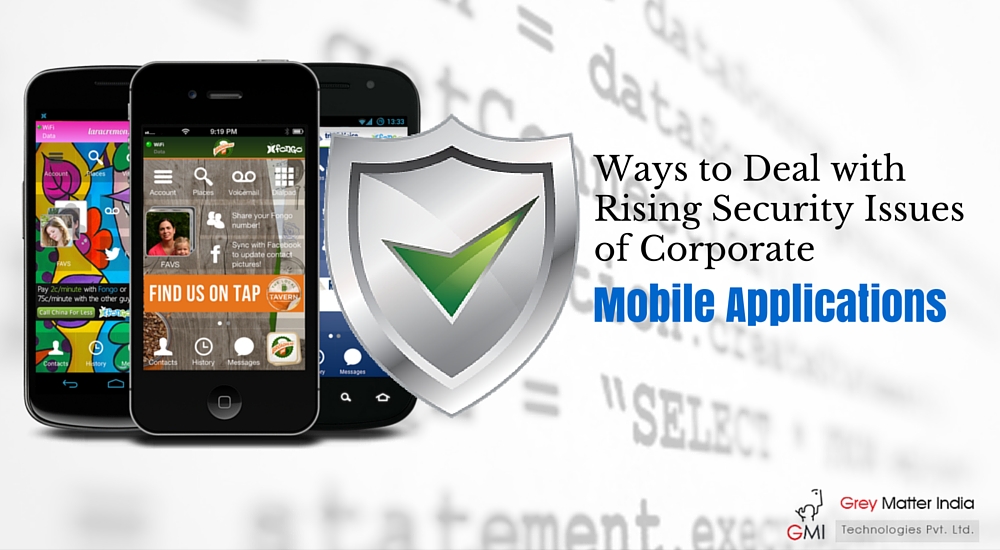 Statistics to Show Why There are Security Concerns with Mobile Apps
According to a recent study, more than 70% of the top free Android apps and hundreds of paid apps in Google Play Store had been hacked previously, while this percentage moves to 50 and 55 percent for free and paid iOS apps in the Apple App Store respectively. Hence, these findings are really concerning for the corporates as more and more businesses look out to develop mobile apps.
There are many organizations allowing their employees to work using their own device with BYOD (Bring Your Own Device) strategy.This gives the employees freedom to work with their own device so that they can enjoy comfortable working experience at their workplace. But, according to a recent study, more than 80 percent of the smartphone users use the same device both for personal as well as professional work in this case and hence, this increases the vulnerability of business data to security threats. Therefore, a major concern for the companies related to the enterprise mobility is security of their mobile applications. Even the mobile app development companies need to take more precautions in order to develop secure applications for their clients because insecure applications can risk their reputation.
Following are few ways that can help enterprises to create, deploy and execute secure mobile applications for their business needs.
Need to Learn About Common Security Threats
Best way to secure your mobile applications from hacking and other data security threats is to be aware of what kind of security threats is your application vulnerable to. You can research on what kinds of security threats are often faced by the enterprises when they go for mobile apps development. You should learn about the different ways these enterprises leverage in order to keep their mobile apps away from security issues.
Use Effective Tools to Secure Your App Code
The number of mobile devices and applications getting hacked is increasing day-by-day. Hackers, these days, are able to easily obtain a public copy of the apps which they can easily edit for their illegal intentions. This is the reason that today more and apps are getting hacked. Hence, in order to deal with such app code security issues, the mobile app development companies should use specific tools for the purpose. They should take necessary actions to protect their app code and data from various vulnerabilities.
Implement Multi-Factor Authentication
Multi-factor authentication is a process where the users are authenticated for access of an application through multiple authentication factors. The apps like the enterprise mobility applications that deal with critical or confidential data can be secured with such a strong, multi-step authentication process.
Hence, it is clear that today's business apps are not at all safe. They are prone to more data security vulnerabilities and so,if you are looking to develop mobile apps for your business, consider experts having knowledge of secure mobile app development process.